Become a Barkan Method Hot Yoga Teacher this summer: June 24th – July 14th 2018!!
Join me on Fort Lauderdale Beach and become a 200 hour certified Yoga Teacher:
We start each day with Sun-Salutes and a silent meditation watching the sun rise!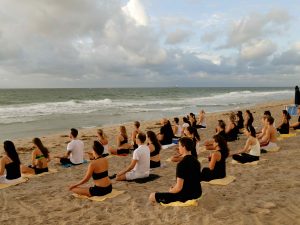 Two Yoga Classes and Posture-Teacher Clinics held at our State of the Art Hot Yoga Studio in Fort Lauderdale:
We finish the day learning about Yogic History & Philosophy!
Teaching yoga teachers is something we can not take for granted. It is a responsibility that can not be taken lightly. There are too many teacher trainings programs out today lead by instructors with limited experience. This is what sets The Barkan Method apart. Jimmy has been practicing since 1980, was the only teacher allowed to certify Bikram Yoga Teachers besides Bikram!