Become a Barkan Method 200 Hour Hot Yoga teacher!! Two Ten Day Sessions: All participants must complete both sessions to graduate.
Hosted by The Original Hot Yoga Center in Voorhees New Jersey: Hot Yoga Center

Thank you for your interest in the Barkan Method 200 Hour Hot Yoga Teacher Training, recognized by the Yoga Alliance. Jimmy has been certifying Yoga Teachers since 1986. Jimmy's interactive approach of teaching goes beyond motivational.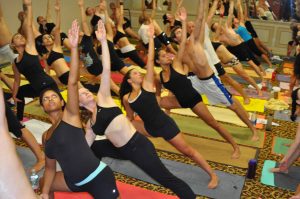 Jimmy Barkan's Level I Training was the first to be established in South Florida USA and is considered the top-rated training in this area and beyond. In fact, there are hundreds of students and studio owners around the country and world that got their start with The Barkan Method of Hot Yoga. Jimmy's extensive experience in teaching, guiding, body alignment and yoga history is what separates & distinguishes The Barkan Method Teacher Trainings from all others. Come and discover what thousands already know – that The Barkan Method of Hot Yoga Teacher Training prepares you to be the best teacher you can be!