Join us today at one of the first Yoga Schools in South Florida. Fort Lauderdale's Premier Hot Yoga Studio located next to Whole Foods market:
Ft. Lauderdale Location
We offer Hot Yoga, Warm Yoga, Power Yoga 365 days a year! FT. Laud Schedule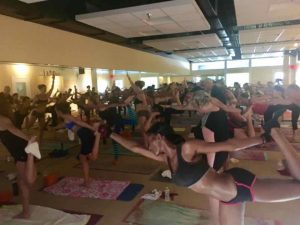 What differentiates The Barkan Method from Bikram or other forms of Hot Yoga?
The Barkan Method is built on many of the poses and philosophies of Bikram Choudhury and Bishnu Ghosh, but integrates postures from other styles of yoga. Jimmy has been teaching yoga since 1981. He has found that even though consistency is important to measure results, daily variations are necessary to challenge, excite and help students become unlimited in their practice. There are many alignment differences between Barkan & Bikram as well: Barkan does not believe in "Locking the Knee", and crunching into the lower back!!
Back to Top
Why is the room heated?
The room is intentionally hot. It is heated to warm your muscles, prevent injuries and allow for a deeper release in your body. Sweating will also help flush toxins and poisons from your body. Bikram heats the room to 105-110….However, in Barkan we heat the room to 95-100!