Feeling mental, emotional and or physical stress?  The Barkan Method of Hot Yoga could be the answer!! Located across the street from The Town Center Mall: Boca Location   Boca Schedule
First established in 1983 at our Fort Lauderdale location as Yoga College of India, making one of the first Bikram Yoga schools in the world! Jimmy Barkan, owner. operator, was Bikram Yoga's most senior teacher for over 18 years! They split in 2002 and Jimmy went on to create his own style called The Barkan Method!
Since the establishment of The Barkan Method of Hot Yoga in 2002, Jimmy's Level I Teacher Training programs are held in Fort Lauderdale, Fl., North Carolina, Westchester, Long Island, New Jersey, Iceland, The United Kingdom, Japan, Hungary and  Australia.  There are national and international studios and teachers practicing The Barkan Method Hot Yoga including; Canada, Japan, Australia, New Zealand, Iceland, Denmark, Norway, Sweden, Finland, France, Germany, Austria, Hungary, South America, Thailand, South Africa, Ireland, The United Kingdom and throughout the United States. Barkan also offers Level, II, and III Teacher Training programs throughout the year in Fort Lauderdale, Florida and Costa Rica. Jimmy has also trained many of our country's top professional athletes throughout the years including members of the NFL, NBA, NHL, the 1997 World Series Champions Florida Marlins and PGA Tour players.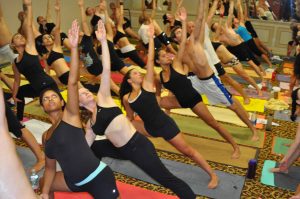 With a Bachelors Degree in Fine Arts, (Dramatic Literature), from New York University, Barkan uses his education as a foundation for helping his teachers find their own voice and personal expression. Jimmy spent years studying the most effective ways to communicate as a leader and yoga teacher. Jimmy's rare insight and intuition helps teachers to rid themselves of nervousness and self consciousness, guiding them to discover their own VOICE and potential as communicators both on the mat and off. Teachers will have a sense of confidence and accomplishment upon completing his training and Jimmy's unique background creates an experience you will not find elsewhere. Barkan has been certifying Yoga Teachers since 1986. His extensive experience is what separates & distinguishes The Barkan Method Teacher Trainings!!