If you are feeling mental or physical stress The Barkan Method of Hot Yoga could be the answer! Established in 1983, first known as Yoga College of India, one of the first Bikram Hot Yoga schools in the world! Jimmy Barkan, owner, operator, was Bikram Yoga's most senior teacher for over 18 years! Barkan and Bikram spilt in 2002 and Jimmy created his own style called The Barkan Method!! Ft. Lauderdale Location   FT. Laud Schedule
The Barkan Method is a style of Hatha Yoga that originated from a lineage in Calcutta, India. While the Barkan Method finds its roots from this lineage in Calcutta, it also integrates postures from other styles of Yoga to create variations and even greater range of motion. The yoga classes are practiced in a heated room to stretch and strengthen various areas of the body. The practice brings vital balance and restores all systems to optimal health.  Consistency will create a physical, mental and spiritual harmony that will be felt in all areas of the practitioner's life.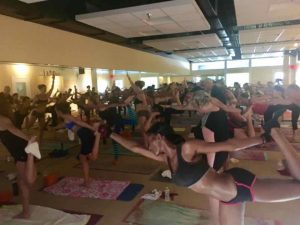 The Mental
As in all forms of yoga, the mind is strengthened through the discipline of The Barkan Method, which helps to eliminate stress, depression, anxiety, and other dysfunctional mental disorders. The Barkan Method helps to create a calming of the mind, quieting of the brain's chatter, and deep relaxation response.
The Physical
The yoga asanas are designed to work internally and externally. Internally, improvements to the heart, spleen, kidneys, liver, and intestines are realized through consistent practice. Externally, the joints, muscles, tendons, and ligaments are all made stronger through The Barkan Method.